So I was tagged again for the 5 Things meme, by Swell Vegan and Rabbit Food! Eep, I'm not sure what else there is to say about myself, unless we had a lovely beverage and a sunlit cafe to talk in for a while... I suppose the most important things about a person are those things they strive for, though, so I'll list my top five upcoming projects.

1. A cookzine, finally! I can't boast a lot of recipes, but those that I do have are special and fun, and it's been too long since I've made a zine. I just need to come up with a name first, and then all the cutting and pasting will follow after. It'll probably be decorated to the nines. :D

2. I saw Rachel Brice on tv recently and fell in love. At least with the concept of tribal bellydance. It's almost like how I dance anyway, but I'm really interested in adding some real structure and tradition into my own thing. I've already found some instructional videos on Youtube and I can make my belly swim like a snake! (this also has the added bonus of increased ab-strength, which just makes life easier in general). Not to mention I get to make a similarly decked-out costume for the next solstice festival I go to!

3. The etsy store, but I've already mentioned that! I went to the bank yesterday to find out why I have a Visa account but no card yet. They didn't know, and advised me to call Visa themselves, but I AM taking steps toward this!

4. Finish the final and fifth installment in my Treehead painting series. I got an A on the four I have so far, but I want to make a fifth on my own time and see if maybe a bar or small cafe around the city would want to put them on the walls for a bit. Five is a good number for an art proposal, I think.

5. Start volunteering at the Santropol community garden. I couldn't schedule it in between classes last fall, but I can do it now, and I want to learn everything about growing things. Also, keep nurturing my tomato plants into strength - I hope I can transfer them soon. (and my herbs are starting to smell like herbs, which is such a thrill!)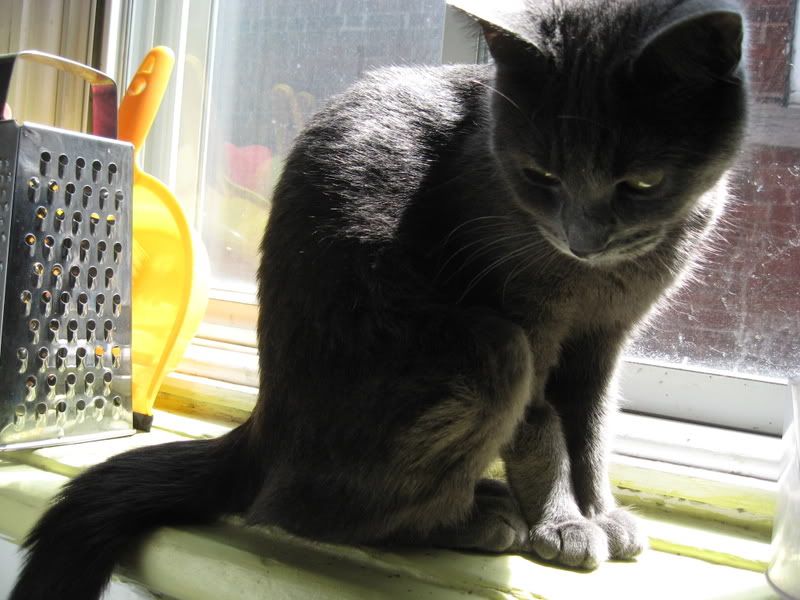 And one thing I CAN cross off the list? I finally got Satchmo fixed, and she is so relieved and relaxed now, stretching out her funny little shaved belly! I'm pretty relieved, too. The summer should go by a lot easier now.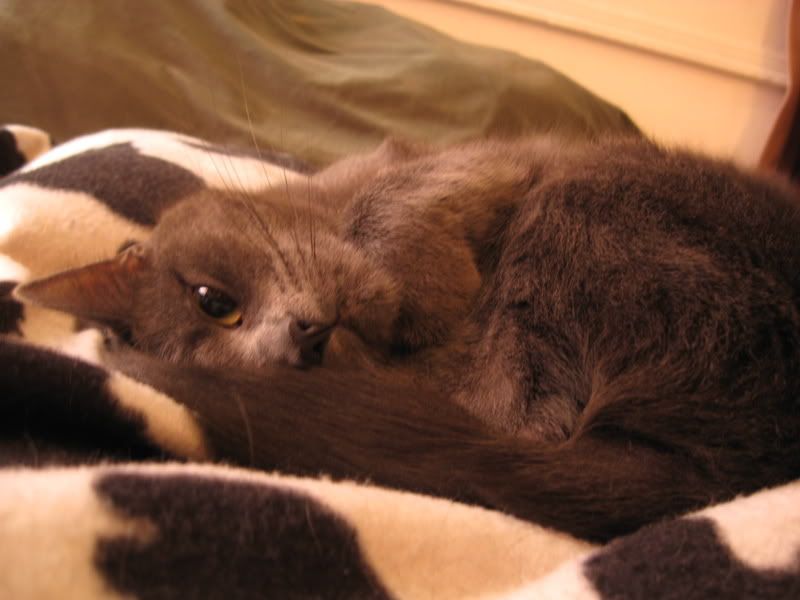 Love Like a Vegan also tagged me to post 6 words that describe myself, and I could save everyone a lot of time and say paradoxiquacious, but I can use english, too. :D

serious (no really, it's true)
determined
idiosyncratic
thoughtful
idealistic
tough

Neat! Okay now I tag... Sugar Shock, Damzlfly, Tropical Vegan, Ruby Red Vegan, & Vegan Eats and Treats to do the same thing.