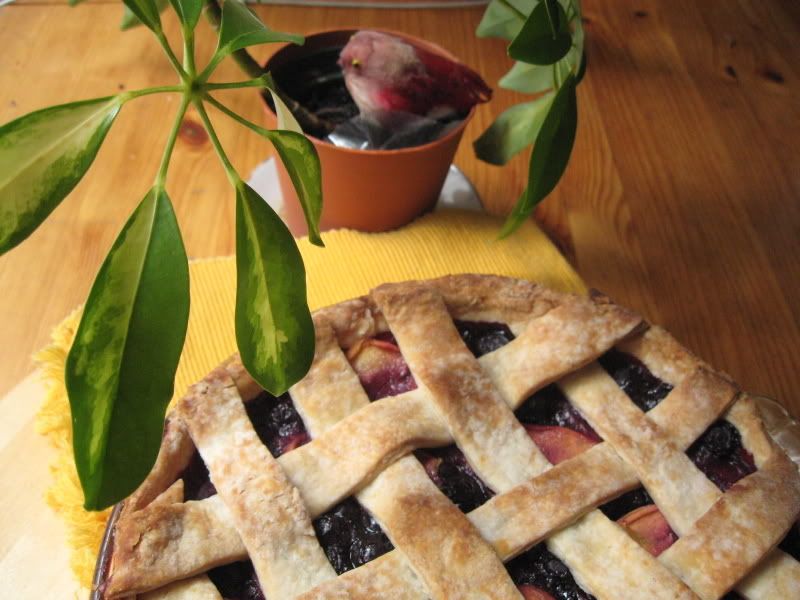 So I'm writing this from the comfy green rocking recliner in my mother's living room, covered in flour and crossing recipes off of the veganomicon index faster than I can decide on the next thing I want to make, and that is to say - life (or at least my pseudo-vacation before school starts full throttle again in september) is good.

I even got to make a pie - a birthday peach and blueberry pie at my mother's request, using the vcon pastry instead of my usual. It's definitely easier to use, like those pie crusts you see on television that people just sort of toss into the pan... but I think next time I'll stick with my madness-inducing-yet-extraordinarily-tender crust I usually use. Because personally I'd rather my pie disintegrate into buttery flakes at the touch of a fork than look pretty and pert, but that's just me.... and I'm just a pie-obsesso who so rarely gets to make them... :p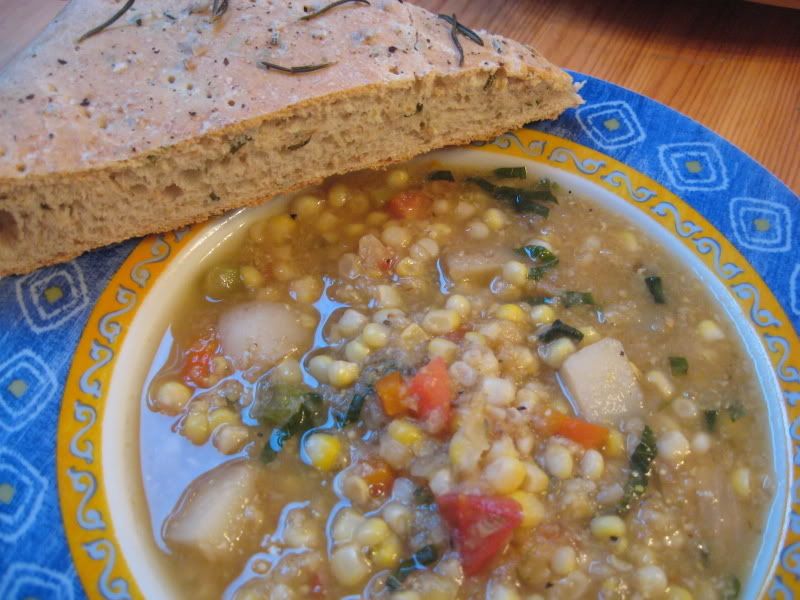 Mmm... and I'm mentioning here that in an awesome and unplanned way, there is a tomato in just about everything in this post. Which makes sense! It being the season and all. But I'm mentioning it so you can play along and find them. Like in the vcon midsummer corn chowder, which is SOOO good, you have to make it! With rosemary focaccia it was perfect, and there was a big paprika'd mountain of hummus on the table, too.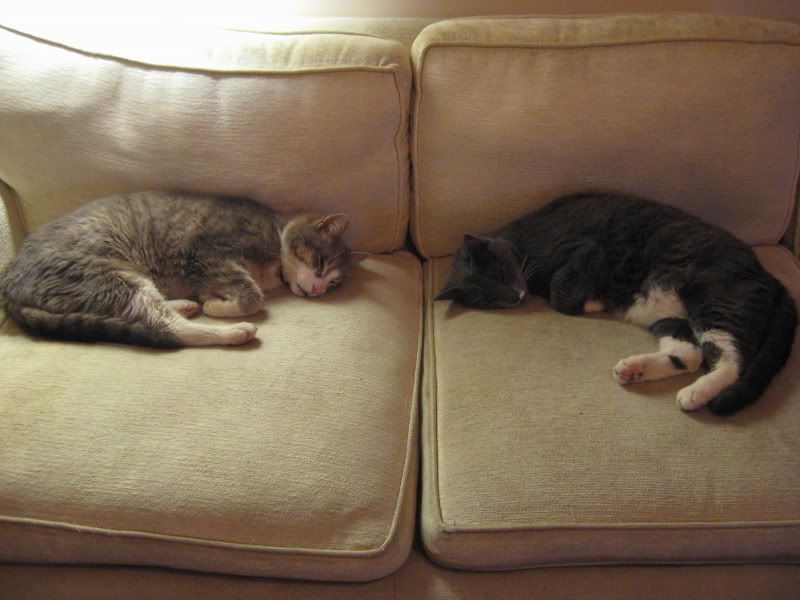 My old old old old cats say hi! They're still doing their thing where they act like mirrors or parallels of eachother. Haha, cute.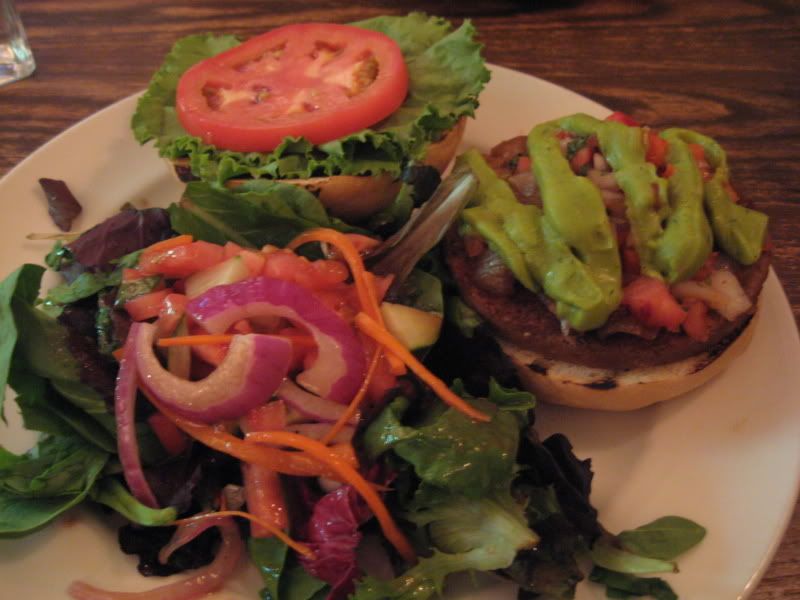 Went out for dinner at Corners on Bank. Not much to say... I mean, it was crazy delicious, but it was just a Boca burger. I guess to people who never ever eat those things it's a special treat, though. And they very happily let me pick my own toppings off of the menu options, so I got chipotle salsa, caramelized onions and guacamole, and the calabrese bun was teeth-sinking yeasty and notably fresh, so really, who's complaining at all?

Okay me, for forgetting to ask for my salad sans dressing. :p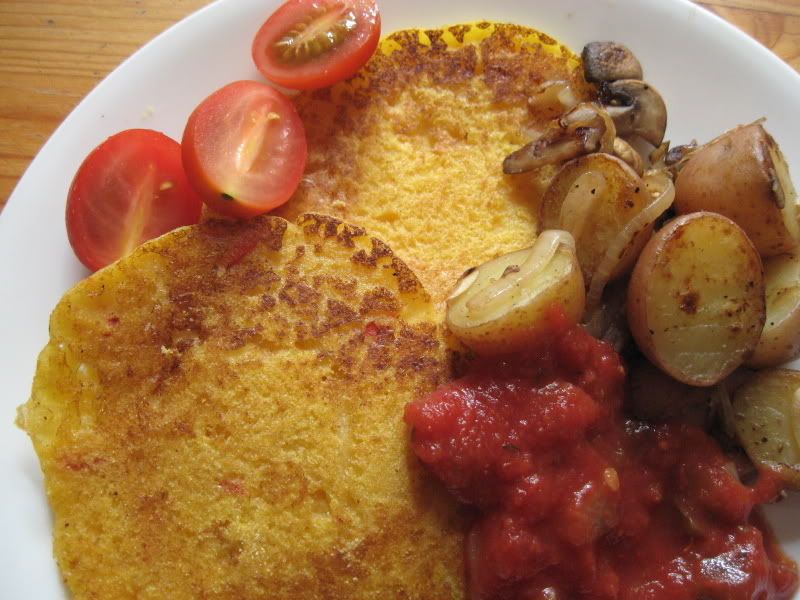 I'm in love with hoecakes now, too. So easy to make and really surprisingly good. I made mine like...

1 cup cornmeal
3/4 cup water
1/4 cup almond milk
1/2 tsp salt
2 tbsp chopped pickled jalapenos
1/4 cup sauteed onions
pinch of sugar
pepper

Fry them up, eat with salsa, say yum yum yum and think why didn't I make DOUBLE that amount because now I have to give my lunch to my sister who just came in the door with hoecake longing in her eyes. Alas, alas.....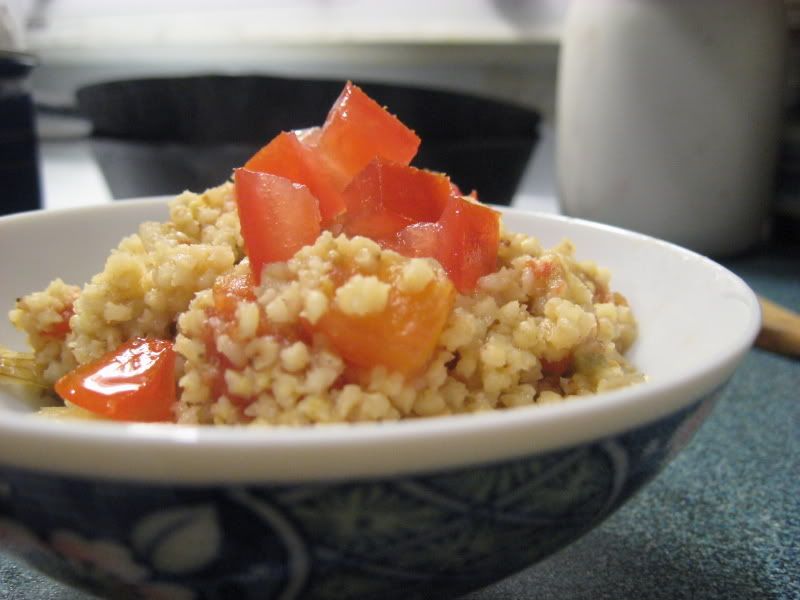 ....at least I got the vcon mexican millet all to myself! It wasn't gonna happen like that - I was making it for everybody, but everybody went to bed, and then a forkful of it went in my mouth and any plans to eat anything else went ~poof~ and I had half the pot all for me, and it was so good. I love millet! Especially when it's buttery and nutty and crisp/creamy, and eaten out of a dainty little rice bowl.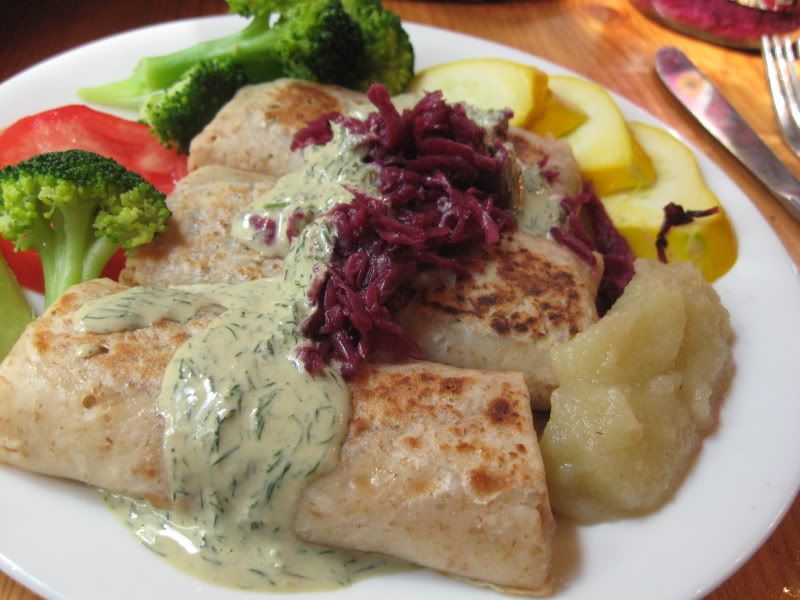 And then vcon blintzes, with dill-tahini sauce, applesauce and pickled red cabbage. A lot of work for something that tasted pretty perogi-like, but delicious nonetheless. Especially when all the toppings glooped together to form SUPER GLOOP of the potato-y sauce-y goodness.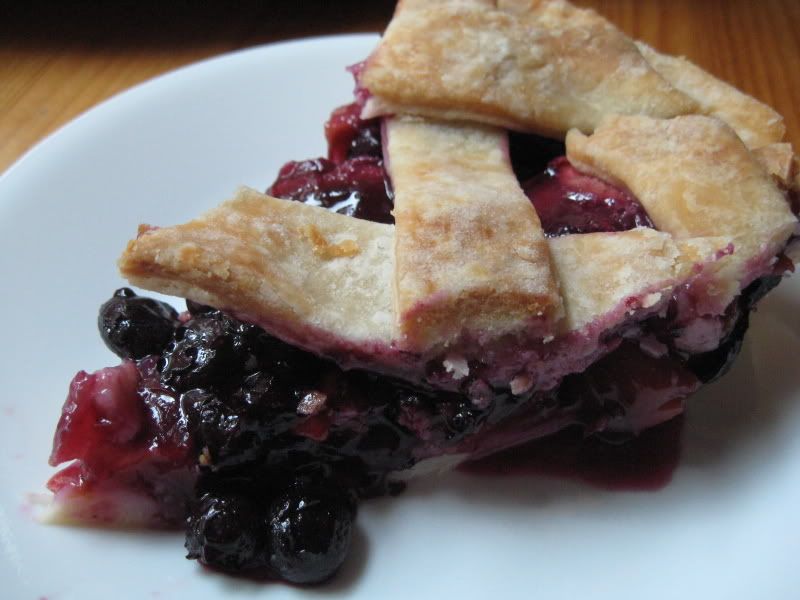 Slice of Pie! Look at that structural integrity! ^.^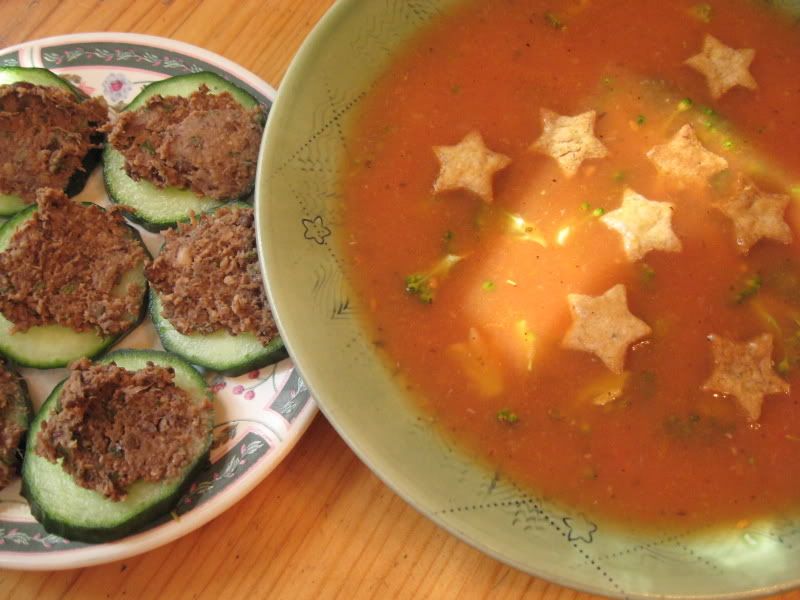 And lunch today - vcon creamy tomato soup (+ broccoli) with celine's cheezy crackers (YUM!) and vcon mushroom-walnut pate with more lentils and less walnuts because that's what I had.

(in conclusion: I love tomatoes! <------- ze obvious) :D