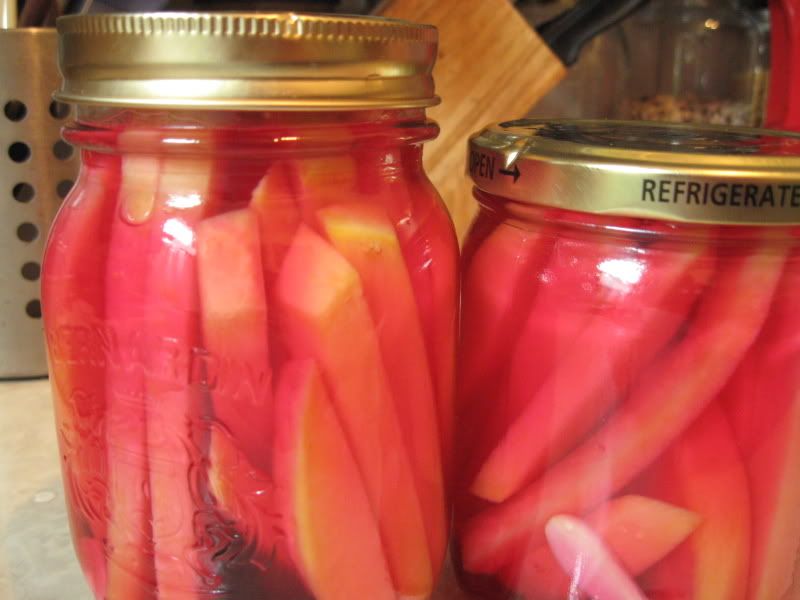 Anyone who knew me in my omni days knows that I practically lived off of chicken shawarmas. Being from Ottawa, that's not too surprising -- we have a billion shawarma shops and most of them are mind-blowingly good. There's even a (sadly defunct) blog devoted to reviewing them all! Basically, it's a middle eastern wrap sandwich on chewy, paper thin flatbread layers, with slow grilled chicken, hummous, tomato, cucumber, lettuce, yogurt sauce, garlic mayonnaise, and most importantly - pickled pink turnips.

I wouldn't be surprised if I've waxed poetic about those turnips before. Actually I'm almost positive I have. So holy cow was I over the moon to find out how EASY they are to make!! It goes like so:

Pickled Pink Turnips for Pitas (or Torshi Left)

Ingredients:
- 1 cup white vinegar
- 1 cup water
- 2 tbsp salt
- 3-4 cloves garlic, sliced thin
- 2 lb. of turnip (I used one a little bigger than a softball)
- 1 small beet
- celery leaves (optional)

What You Do:

1. Cut the ends off of the beet and turnips and boil for 3-4 minutes, then remove from the water and peel.

2. Slice the beet and cut the turnip into french fry sticks, and put those in a big clean jar with the garlic and celery leaves.

3. Bring the water, vinegar and salt to a boil to dissolve, then pour it over the vegetables. Seal and leave it on the counter for ten days, then refridgerate. (*ahem* - I tore through half of them in the first night, soooooo...... :D)


4. Load up a big fat sandwich with garlic mayo, falafel, vegetables fixins' and some of those beautiful pickles and enjoy! I swear it's worth the three minutes of effort - it takes falafel to the moon and back, they're so awesome.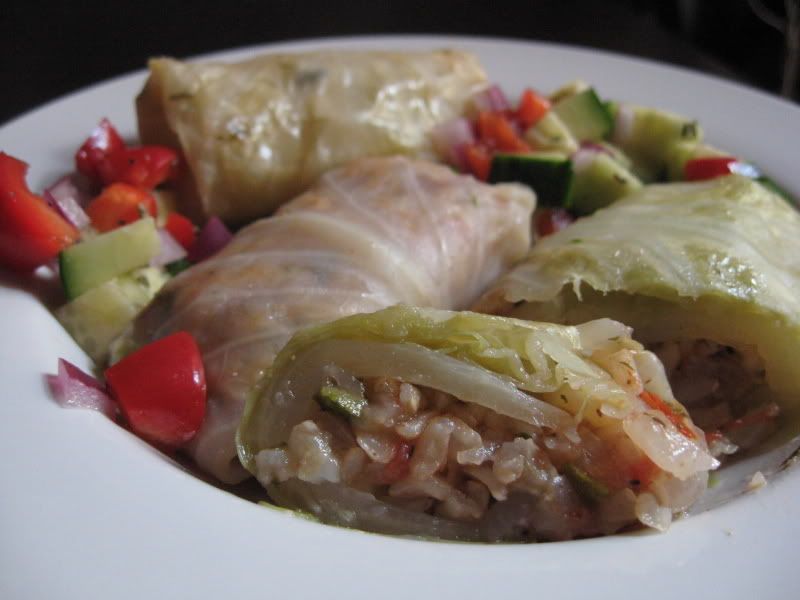 And look at that! Cabbage rolls, but would you believe that they were probably the most delicate and refreshing thing I've had all summer? I went from this recipe, made a few minor adjustments, and was sooooo happy with the results, it was worth every bit of wrestling with a boiling hot cabbage and more than a few dirty pots and pans.

Orphaned Greek Cabbage Rolls with Fresh Herbs (or Lahanodolmathes Orphana)

Ingredients:
- 30 cabbage leaves (one huge head cabbage)
- 3 cups of cooked rice
- 1 large onion, finely chopped
- 3 ripe medium tomatoes, seeded and chopped (I used 1 tomato and 2 tbsps of tomato paste)
- 2/3 cup finely chopped zucchini
- 1 rounded tbsp finely chopped fresh mint
- 1 rounded tbsp finely chopped fresh dill
- 1/2 cup finely chopped fresh parsley
- 2 tbsp olive oil
- 1/2 tsp pepper
- 1/2 tsp salt
- 1 tsp cumin
- 1 cup vegetable broth
- 1-2 tbsp Earth Balance
- juice of one lemon

What To Do:

1. Combine onion, rice, tomatoes, zucchini, dill, mint, parsley, salt, pepper, cumin, and olive oil in a bowl.
2. Remove the core of the cabbage, and stick a large fork into the center. Bring a large pot of water to a boil, and immerse the cabbage, leaving the fork in. When the outer leaves turn bright green, remove using the fork and remove softened leaves. Return to pot and repeat until all cabbage leaves have been removed.
3. Use a sharp knife to trim the thick part of the stem off of the leaves (this will make it easier to roll). For large rolls, place a 3-4 tablespoons of filling 1 inch from the thick end of the cabbage leaf. Fold the bottom over the filling, fold the sides in, and roll up. Place in a large baking dish. Repeat with all the leaves and filling.

4. Dot with margarine, and bake covered at 375 for 1 hour. Pour the lemon juice over the rolls 20 minutes before they're done baking. Serve warm, room temperature, or - best of all - cold from the fridge.