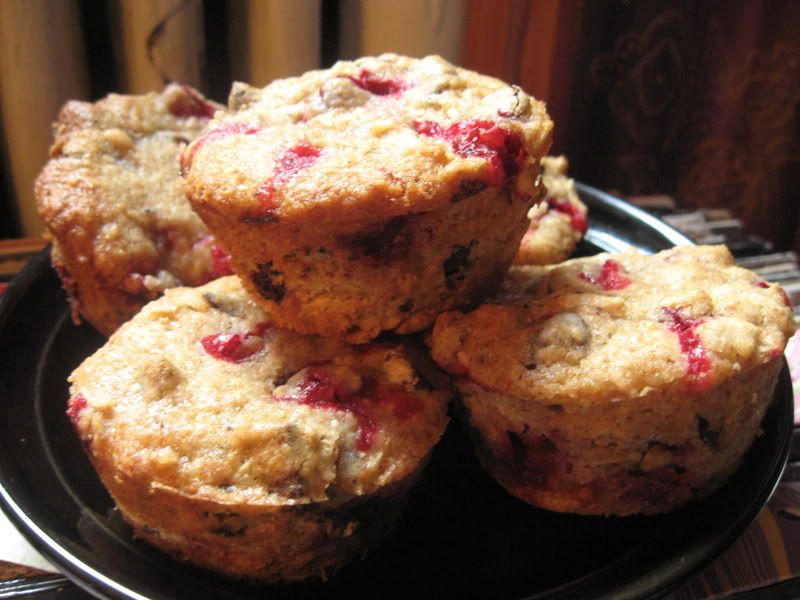 In honour of all the genetically designed dogs out there, and mostly because I wanted to bake with cranberries, I present my entry for Urban Vegan's designer muffin challenge -- Chocolate Cranberry Kamutflake Muffins! With a hint of orange and cinnamon for the season, and a bit of delicate crunch from the flakes, I do think I've done okay here... I draw the line at encouraging vanity pets - but I couldn't resist throwing some of my own namesake kamut into a baked good for the fun of it. So good!

Kamut's Chocolate Cranberry Kamutflake Muffins (makes 6)

1/3 cup unbleached white flour
1/3 cup whole wheat pastry flour
1/2 tbsp baking powder
1/4 tsp salt
1/4 tsp cinnamon
1/3 cup rolled kamutflakes
2 tbsp margarine
1/4 cup applesauce
1/2 cup sugar (I might use 1/4 cup next time)
1/2 tsp vanilla
1/2 tsp orange extract or 1 tsp orange zest (optional)
2 tbsp silken tofu
2 tbsp soymilk
1 cup cranberries
1/3 cup chopped dark chocolate bar pieces

1. Preheat oven to 350 F. Lightly grease a 6-hole muffin pan (and I actually recommend using liners for these guys, which I didn't do this time, but will next time).
2. Sift together the flour, salt, cinnamon and baking soda in a large bowl. Add the kamutflakes and give it a stir.
3. Cream together the margarine, applesauce and sugar until smooth. Add the extracts, tofu and soymilk, then pour all the wet ingredients into the dry and stir until just combined. Fold in the cranberries and chocolate.
4. Bake for 30 minutes or so (I'm actually not 100% on the time, and my oven is weird), or until the middles are firm when pressed and the tops are golden brown. Pop out when they're cool and enjoy!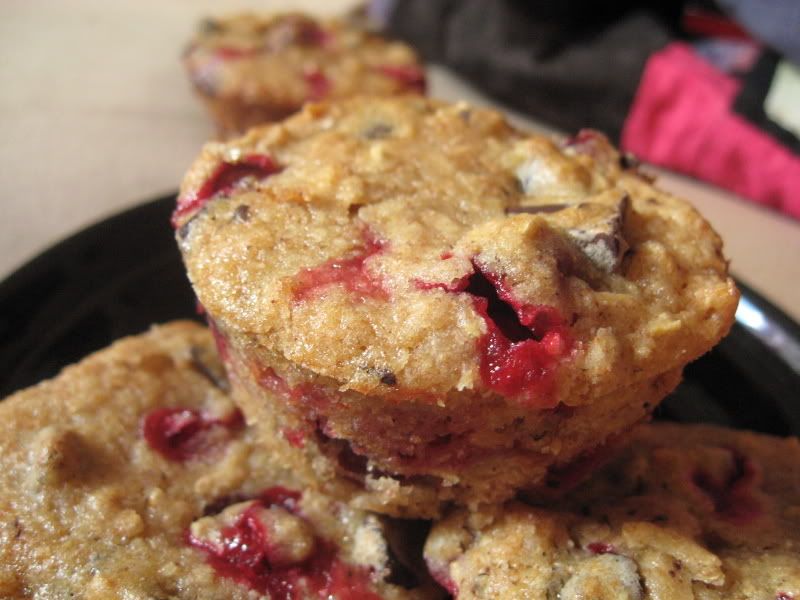 I kinda wanna dive in that cranberry right there. :D