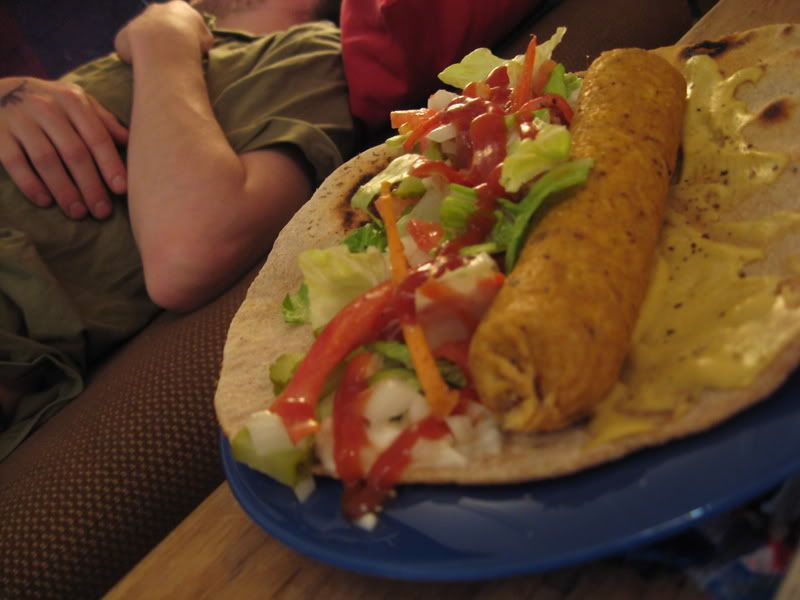 Curiously enough, I have a habit when drinking to RUN NOT WALK to the kitchen and see if I can't whip up something edible with blurry vision. And I usually can! Maybe it's the challenge... and it's certainly better than singing off-key, I should think.

My most classic preparation is some sort of seitan barfood after stumbling home. I guess 3 am and soused isn't the best time to attempt to recreate a vegan hotdog, but I tried! It wasn't hotdogg-y, but it was delicious, even if J was passed out like a rock by the time I set down a warm fresh chapati with a seitan-dog and all the fixins in front of him. (It made a perfect breakfast the next day, though!)


A week or two later some crepes were made, and turned out more perfectly than any sobre pancake I've ever attempted. The Vcon recipe is lightning-fast, delicious, and got rave vegetarian reviews ("these are even better than the kind with eggs! more flavourful and chewy!"). I did add a bit of extra oat flour, too, which gave them a nice homey touch.


Yum jam! Strawberry, blueberry, merlot, sour cherry, plus caramel sauce, cinnamon and fresh peaches.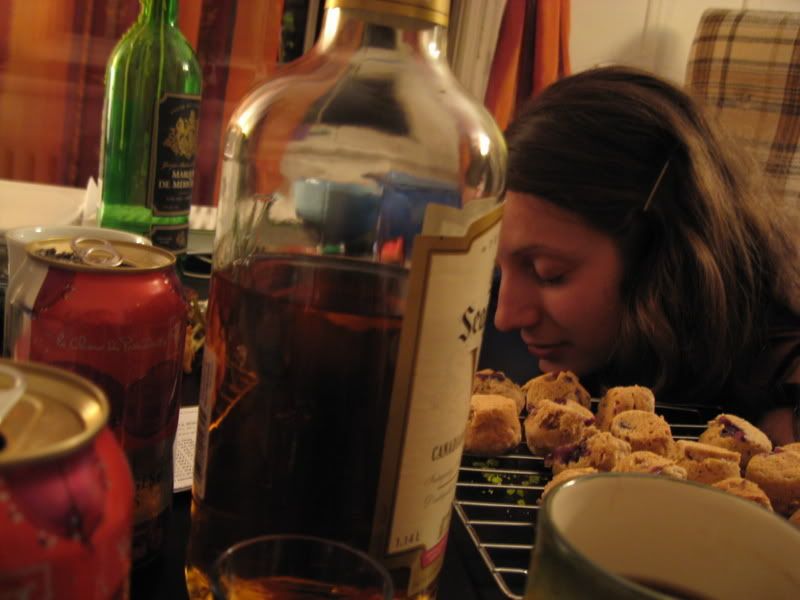 And then last night (we all get off work on wednesday. we call it "fake saturday"), some whiskey prompted a mini-muffin adventure. What kind? Uhhhh.... banana! With blueberries! (we are also blueberry fiends, oh my yes). Use a recipe? Bah! That takes time and reading. Better to just throw some whole wheat pastry flour in a bowl with some ginger, cinnamon, baking soda, salt, soymilk, brown rice syrup, oil and vanilla. And they TOTALLY turned out. Not too sweet, loaded with berries and banana, and perfect for munching on while playing with plastic dinosaurs and discussing 37 ways the world is an unfathomably weird place. Rarr brontasaurus rex!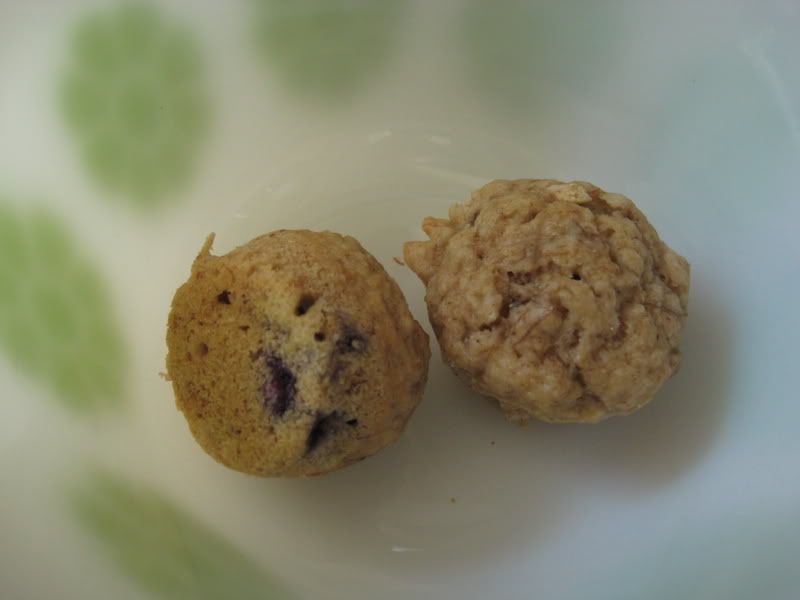 There were even 3 (oops, I ate one - 2) left over the next day!

Smashed Vegan's Warning: please please please do not attempt to drink and bake at home, unless you're of legal age and are prepared to find a huge mess waiting for you in the morning. I don't want to be a bad influence... :o