Moving day this weekend. And moving day again, and again and again... my two best guy friends J and W moving to different apartments and a new roommate for me. It's been change! And a lot of fun, actually, even though I'm pretty sure my arms have doubled in size due to a constant and unending parade of boxes and audio equipment.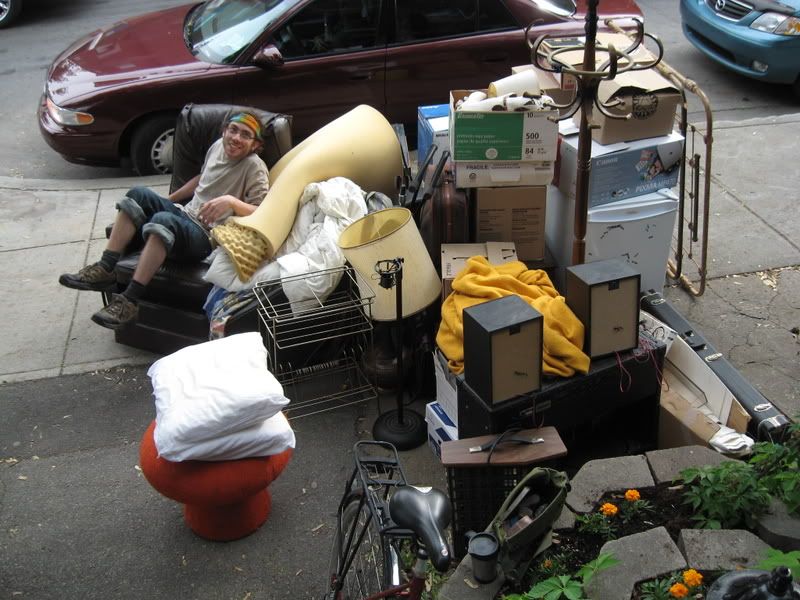 There's my man J, taking a well deserved break (silly man was so excited to move that he didn't sleep the night before and became Zombie J of the Wobbly Muscles). Note the wrought iron and the heavy-ass keyboard cases that evidently weigh about as much as 13 me's. (what, 1.3 tonnes?? okay....!)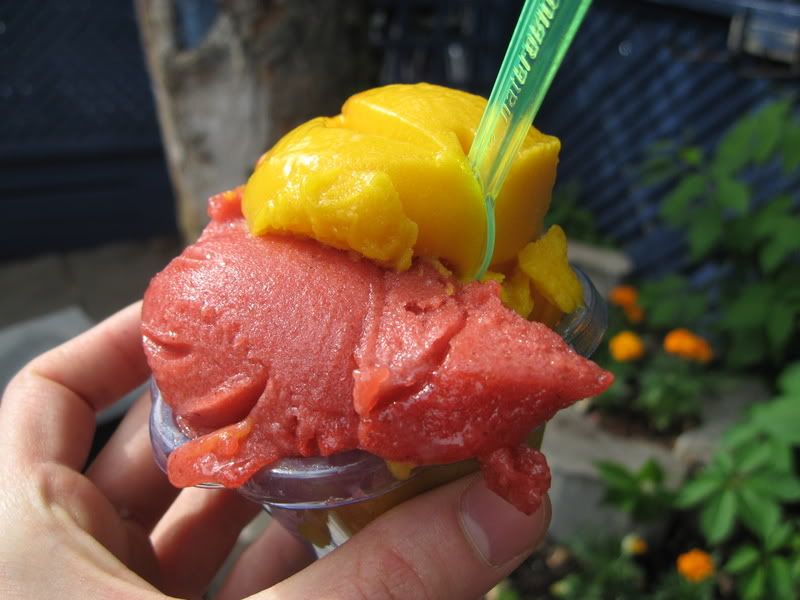 You know what eases all this pain though? Vegan ice creamables. Well, not ice cream, and I admit I gazed longingly at the green tea gelato, but opted for the best of the options available to me, which was a nice mix of mango and strawberry sorbert. I've had better sorbet (namely, stuff that has flavour beyond "sweet and vaguely fruity", but still, the treat was super nice.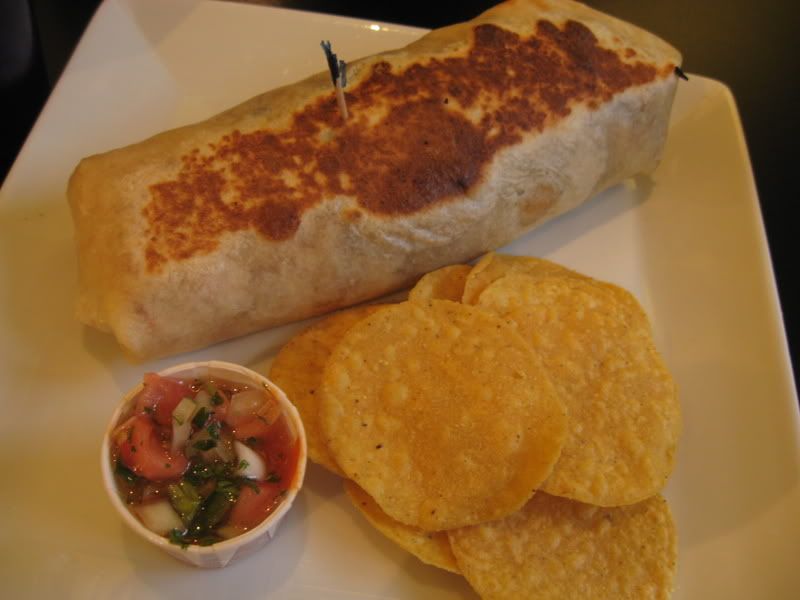 And then when all was finally done (okay, when the guys were done moving at least) we felt this huge empanada craving, so we headed to La Chilenita on St. Laurent ave, which does this otherworldy good Chilean food. I got the burrito grande, which I (eloquently) described later as "melt-in-your-mouth-face-stuffy". Everything I was craving and more.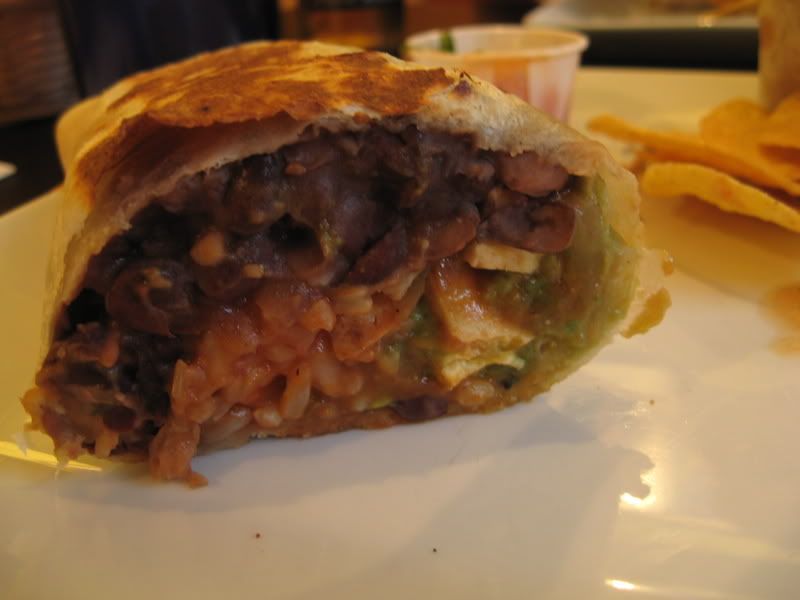 I don't remember precisely what was in here, but I think this bad picture might refresh my memory... okay, Chilean black beans, slurpy sweet onions, rice, avocado, spicy red sauce, and YES YES TOFU! Not to mention multiple hot sauces on the side for slathering, which was particularly awesome because on the way to this place I specifically wished for rice in a burrito with multiple hot sauces on the side. There must have been restaurant fairies in the air.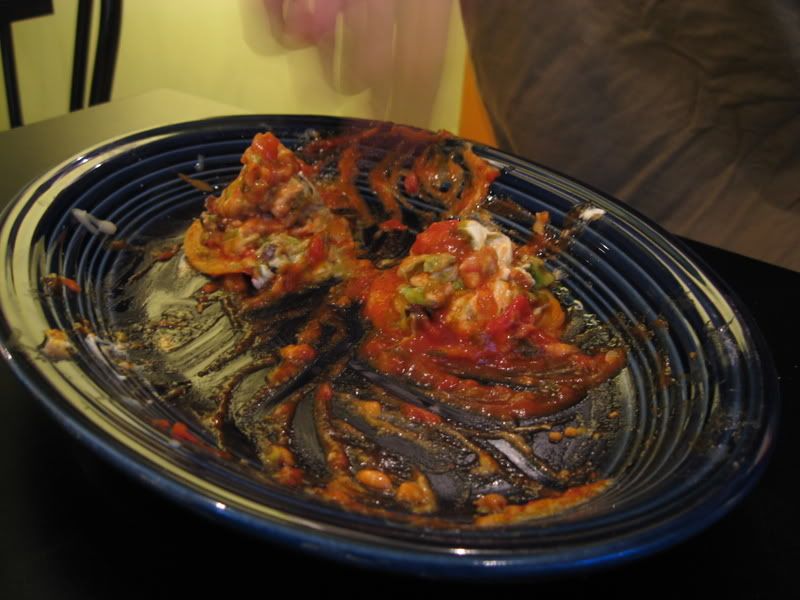 Not vegan, but pretty funny -- J couldn't decide which nacho was the most ultimate of nachos worthy of becoming his last bite, and the competition between the two chips got a little out of hand, becoming what I can only describe as Mount Nachos (or alternatively, they kinda look like boobs).

(the one on the left-hand side was declared the unequivocal winner, by the way)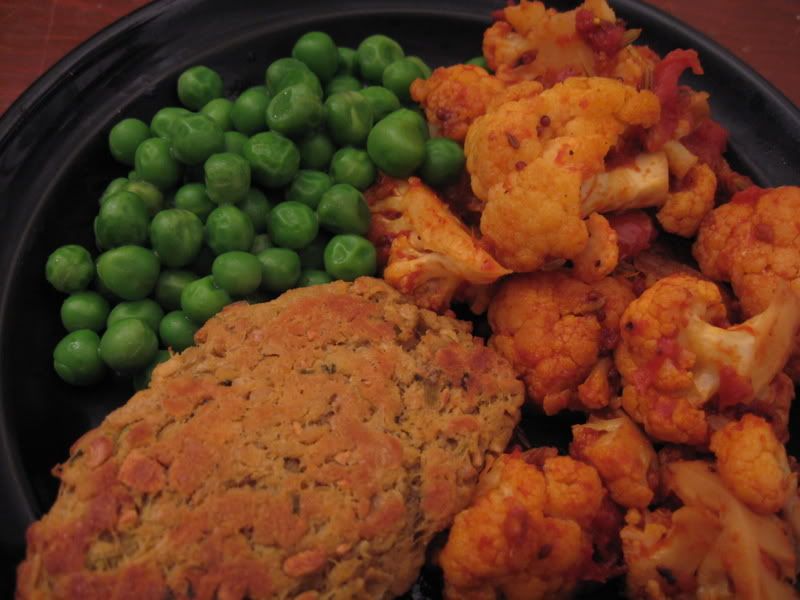 After the dust settled J stayed with me for a few nights before his own plans got worked out, and I took the opportunity to get some real food into his system. Can I mention here that getting food on the table is a whole 'nother world compared to all-day creative culinary noodling? I thought I did okay here, though. I made Vwav braised cauliflower with 3-seed sauce, chickpea cutlets curry-style (cumin, cayenne, turmeric, lime juice and cilantro), and some peas, for the green factor.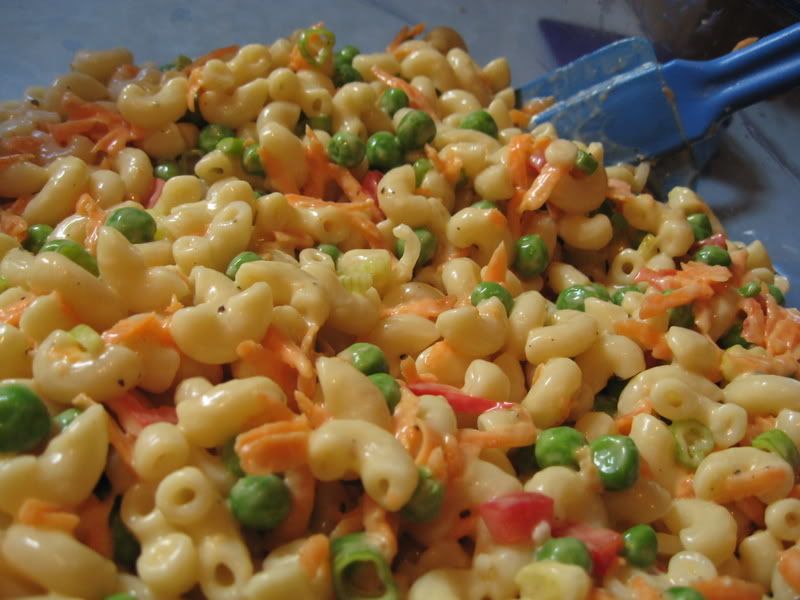 And then a mess of vcon brooklyn macaroni salad, which disappeared over the course of today, amidst a lot of slurping and crunching and digging into tupperware containers. No radish to be had, but I think I prefer it this way with red pepper and scallion instead!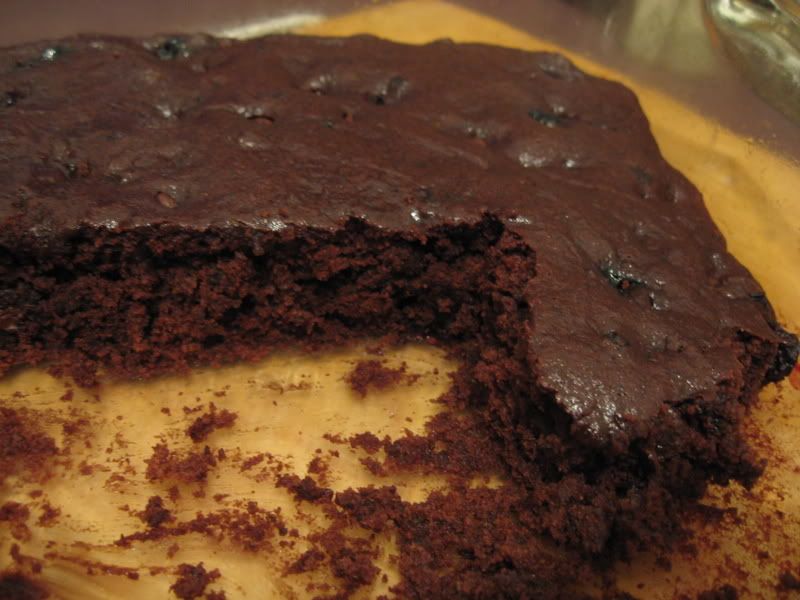 Finally, my new roommate P showed up and we helped her with her own load of boxes, and an offhand suggestion of brownies to commemorate the occasion got followed by the fastest baked good I think I've ever thrown together - a nice half-batch of Vcon blueberry brownies. And I think you can tell that patience was none of our virtues and warm gooey blue choco-cakeness was needed in our mouths, and who needs tidy edges anyway? For some crazy reason blueberries and chocolate marry like epic lovers here. I'd ask "who knew?", but obviously a lot of people did. I'm just super glad I'm in on it now.

Weeeeeeeeeeeeee! Okay, now I sleep forever, and ever and ever and always. Except not, because I'm up tomorrow at 6 for school. But shhh! There's brownies for breakfast. And that makes everything very OK. :)