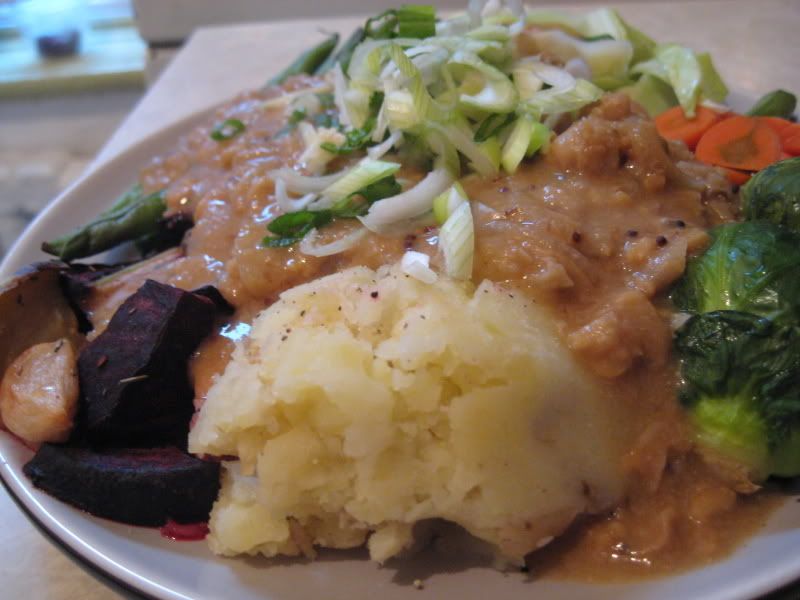 So when Isa says smother, smother I do. There's not much else I wanted to eat after making the VwaV punkrock chickpea gravy, except anything with loads of this on top. Potatoes are totally good for you, right? Like, they're vegetable matter! I ate so much potato last week.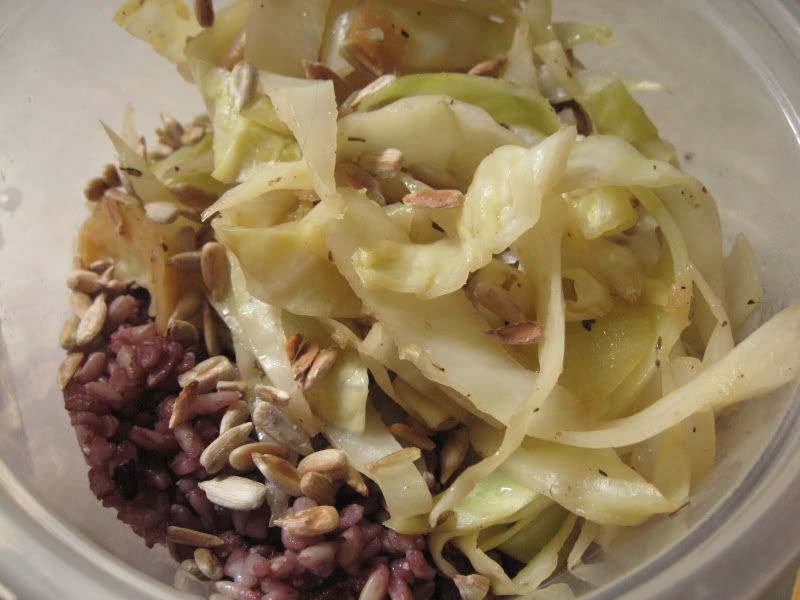 Yes, and cabbage. If you think this is stereotypically peasant-fare so far, just wait until you see my third primary vegetable of late. But anyway, cabbage in everything, and when a lunch needs to be made in the time it takes for coffee to brew, a nice apple & clove braised cabbage isn't bad at all, and can be slurped like noodles actually.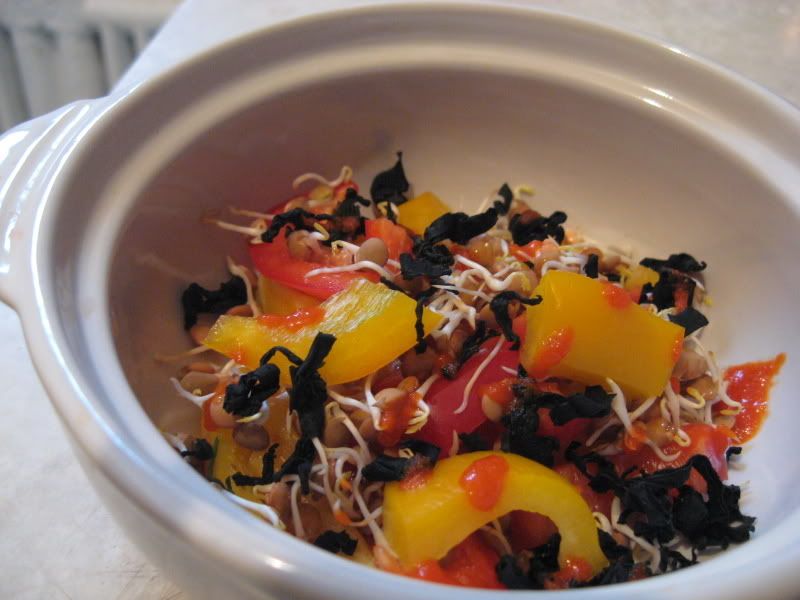 Third in the poor food trinity? Carrots! Good thing I almost consider them dessert. My favorite way to eat them these days is shredded with daikon radish, peppers and sprouts on top, with toasted sesames, tamari and rice vinegar. Sometimes sriracha, and sometimes... wakame seaweed! No, not hydrated, just crunchy and awesome right out of the bag. Better than chips sometimes.


One can see why I took the opportunity to hop home this weekend and eat out of someone else's fridge for a while? Too bad Ottawa produce is expensive and wilty, ah well. Increases appreciation for the bounty of home, definitely (I complain but it's really not that bad in Montreal). And at least there are fair trade vegan chocolates everywhere. This Zazubean bar was sweetened with cane juice and had damiana leaf, maca root and horny goat weed, whatever that is. Had to try it. Flirtacious, no? The cherries were the best part and there were tons.

The real reason I went to Ottawa was to hit the annual Fall Fair Flea Market at the First Unitarian church, which is basically a place to find vintage treasures and loads of fabulous high-quality literature for utter pennies. I found Godel, Escher, Bach for $1, and at that I rest my case. No wait! I also found The Man Who Ate Everything for $1, which is a fairly entertaining read. Almost precisely like reading a top notch food blog in book form. Plus I got a zillion classics, artbooks, and philosophy for a smile & a song and a twenty dollar bill, y'all, Liz is in happy book land!!!!!


Perhaps more importantly, I discovered that the church offers sanctuary to a number of people. Most recently a Nepali human rights activist (Shree Kumar Rai on the right), and for ten years a Bangladeshi family who were abused years ago here in Ottawa, and threatened back at home for speaking out about it. So now they both have apartments in the building, and cook amazing amazing food (mostly vegan!!) to pay for expenses and things. And they need people to watch for government officials all the time, which is crazy, but I'm proud of my old church for having the balls to be this immensely awesome. That's the mediterranean plate they put together for me up there, with a requested cauliflower pakora in the middle, yum.

(More information about UU sanctuary here).


Not to mention I was lucky enough to try Mr. Samsa's vegetarian wrap and holy crap, it was actually the best deep-fried falafal-ish thing I've EVER had. No kidding. The bread was yielding like butter (absolutely homemade), and the innards were spiced like the chorus of your favourite song. I wish I could get these all the time!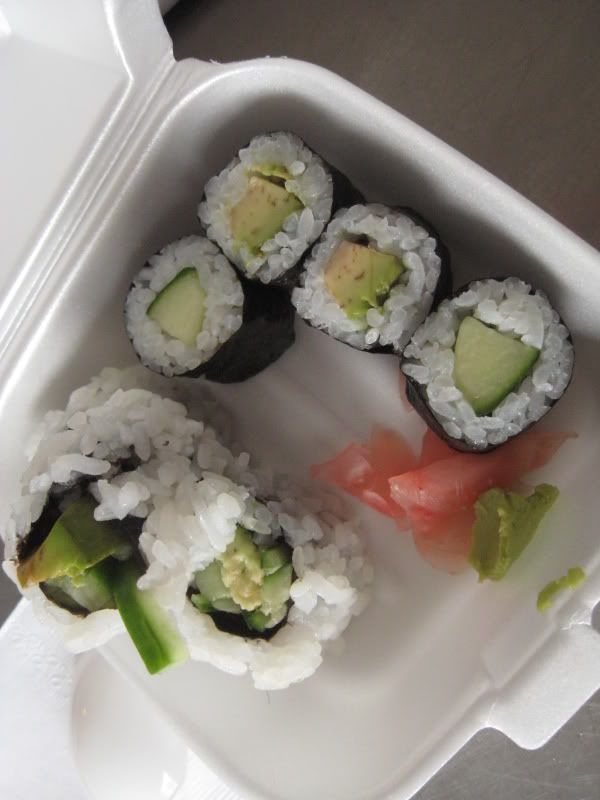 They even had sushi! Basic veggie style, but it was real and fresh and delicious as sushi usually is. Go International Cafe! I just wish I could have tried some of the onion bhaji or samosa, which were flying out of the kitchen and looking phenomenal, but next year I guess.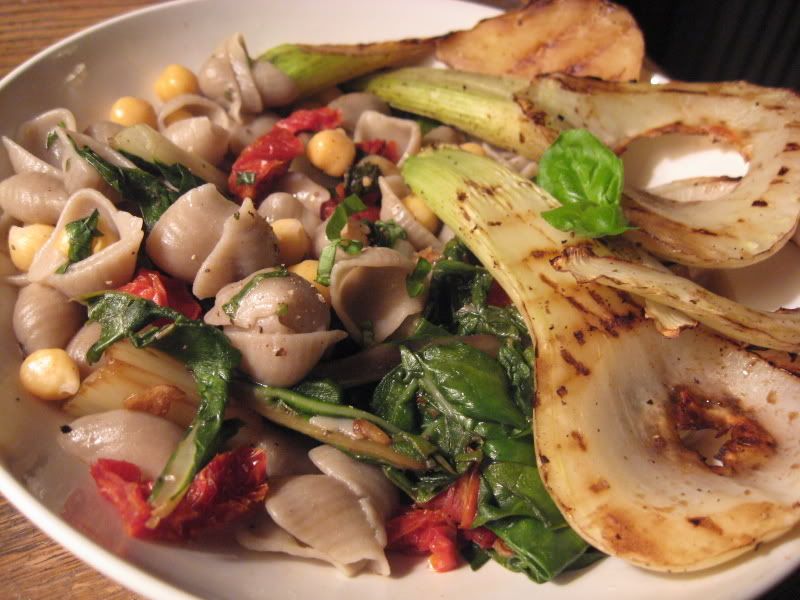 So that was the trip and now I am home, and since I couldn't for life of me decide what I wanted for dinner tonight I mixed it all together with some kind of gluten-free pasta (rice, I think), fresh basil, chard, garlic, sundried tomatoes and chickpeas I made this morning with balsamic grilled fennel and that was pretty good for a girl who makes noodles maybe ten times a year. Pretty good delicious, that is!

Oh yeah. And 100% potato/cabbage/carrot free, and for that we sing a wee song of yay and happy-chew. :)