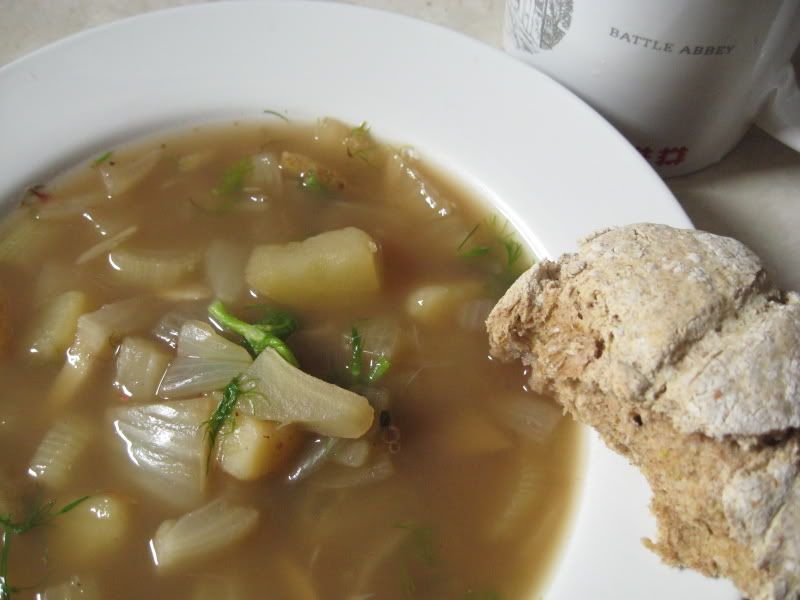 Woot anachronistic cooking! I've been wanting to try some medieval cuisine for a long time now, and a fennel in the fridge seemed as good a time as any to start. This is a pretty straightforward soup recipe, except that the spices are totally left field and extremely yummy. Apparently medieval cooks were heavy seasoners, actually, and used a lot of sour, sweet and spicy, and eastern ingredients when they could get their hands on them. Sounds good to me! And I tried soda bread for the first time --- it's so crusty and fast, I love it.

Damned Tasty Ye Olde Fennel Brothe

1 tbsp olive oil
1 onion, diced
3 cloves garlic, smashed
1 fennel bulb + greens, diced (put the greens aside)
1 medium white potato, diced (not authentic and tastier without!)
5-6 cups of 'chicken' broth
1 tsp dried galangal pieces (1/2 tsp of dried ginger might work, too)
4 whole cloves
a good pinch of saffron
lots of pepper
parsley
salt

1. In a soup pot, brown the onions and garlic over medium heat until translucent. Add the potato and fennel and continue to cook until all the vegetables are golden and soft.
2. Add the broth and spices, bring it to a boil, then reduce and simmer, mostly covered, for about 25 minutes. Add the frilly fennel tops, check for seasoning, and keep simmering until the vegetables just start to break down into the broth. Puree if you're not feeling authentic (perhaps food mill or pound with a rock?). Serve with soda bread....

Soda Bread (for one)

1/2 cup whole wheat pastry flour
1/8 tsp each: salt, sugar, baking soda
2 tbsp + 1 tsp milk
1/4 tsp vinegar (white or apple cider)
optional:
1 tbsp of currants or chopped raisins
1/2 tsp caraway seeds

1. Preheat oven to 400 F
2. Sift the flour with the salt, sugar and soda into a large cereal bowl.
3. Add the vinegar to the milk, then pour that into the dry ingredients.
4. Stir with your hands until a raggy dough forms, then turn it onto the counter and knead just a few times to smooth it out. Form that into a little biscuit shape, cut a cross on the top, place on an oiled baking sheet and bake for about 20-25 minutes, or until it's browned on the bottom and smelling nice.