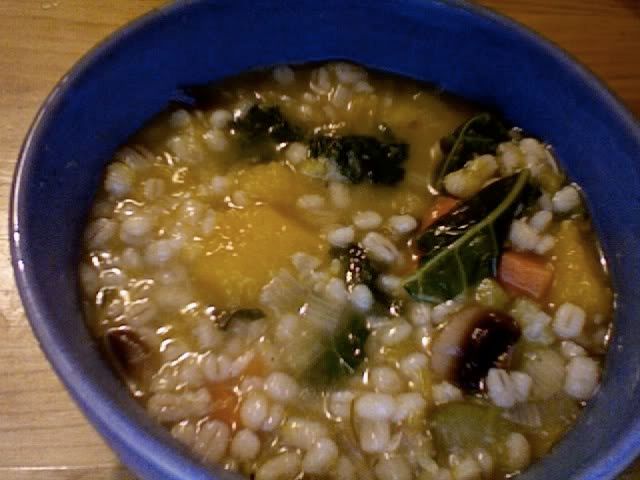 This is bringing back memories. Not necessarily of old flavours, but this barley is um.... my dad tried to make barley soup once, out of some old cooking onions, some oregano, green pepper, probably bacon, and hell, maybe leek (hey, a common ingredient with my soup!). Anyway, it tasted edible, but the best (funniest) part was the leftovers - the barley soaked up so much water and the flavour of the soup was so nondescriptly odd that it basically looked like a pot full of teeth and it got the name Toothfairy Stew. And he promised never to make it again. *grin*

Right, anyway, that ain't this soup. This one's what I believe is referred to as "awesome". Basic hearty autumn fare (okay, so I'm also desperately trying get through way too many farm-fresh vegetables currently leafing up my tiny fridge... I know, I know, woe is me). Almost risotto-like, and go heavy on the squash if you can!

Butternut, Mushroom & Barley Soup

Ingredients:
1 tbsp olive oil
1 onion, chopped
2-3 cloves of garlic, minced
1 carrot, diced
1 zucchini, diced
1 leek, sliced
2 cups of various mushrooms, sliced
8 cups broth (I used water and 2 mushroom soup cubes)
1 cup of pot barley
2 bay leaves
1/2 tsp thyme
salt and pepper (lots of pepper!)
1 butternut squash, roasted and chunked
1 bunch of kale, ripped into bite-sizes

Directions:
To roast the squash, seed it and cut it and put it in a large pot on the stovetop with a 1/2" of water in the bottom. Boil that, shake some salt on, then lid it up and stick it in a 450F oven for about 30-45 minutes.

In a big pot (though I used a cast-iron pan for this part; extra washup but more yum), heat up the oil, then gently saute the onion until translucent. Add all the veggies in, add some salt, and saute just until things look... I dunno, a bit softer around the edges and starting to smell good but everything's still perky. did I just make sense there? anyway, add the broth now! and the barley/herbs. bring to boil, simmer 30 minutes, add squash, simmer 15, add kale, serve! yummo!