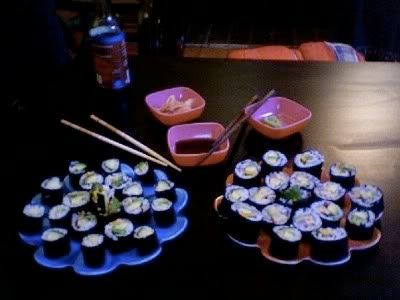 Okay, so the sad sad truth is that living alone on a fairly small budget with a fairly small stomach means I can't be running around making giant meals all the time. Most of the time dinner is fresh corn on the cob, actually. But sometimes I go all out, and even though these pictures are kinda old (maybe a month ago), I gotta talk about sushi night!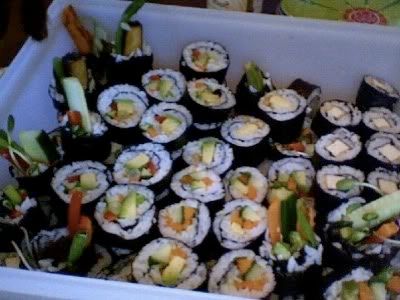 For my first foray into seaweed delights, I wasn't gonna use no stinking recipes! I just chopped up some delicious sushi-ables (avocado, red pepper, match-sticked carrots, cucumber, toasted sesames, marinated tofu, peanuts, sprouts, asparagus and green onion) and went apeshit for a few hours. So. Much. Fun! The sushi pictured on the left is what came out of it, pretty much all of them some variation on a vegetable roll. And I like vegetable rolls! But somehow it was lacking in punch, direction, zazz.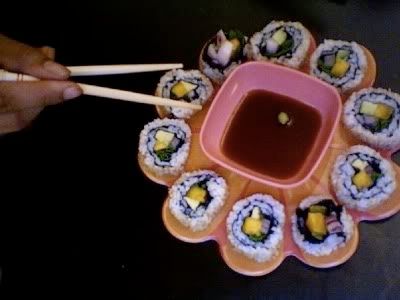 So I wised up. I actually looked at some recipes for the next batch, notably the PPK sushi recipes, and the amazingly good so good better than sex Mango Salsa Roll!! Seriously, Star and I were moaning and rolling on the floor as the flavour cascaded thru our mouths, juicy and cilantro-y and wonderfully shrimp-free. She liked the mango best, and I was torn between that and the spicy tofu. I do likes spicy.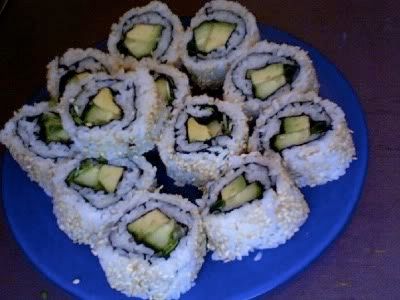 Check it out! Uramaki-style California Roll! I think that pretty much means all the boys are MINE MINE MINE, and also probably the girls as well.

I dunno how something so simple can be so satisfying, but it's a seriously well-constructed formula - crunchy and creamy and nutty and actually a nice palate cleanser between the stronger flavoured sushis.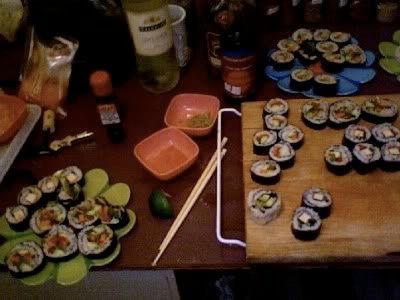 (and of course, the best part of making sushi is that it's the perfect excuse to throw a party and stuff yourself silly on uncannily good food) ----->

We even invented a roll (probably just so we could enter the canon of People Who Have Named a Maki Roll). It's got crispy sweet apple, julienned carrot and fresh ginger, and it's actually pretty balanced and satisfying, if I do say so myself!

Bunny Roll

1 cup of sushi rice, seasoned with...
2 tbsp seasoned rice vinegar
4 sheets of nori

1 large fuji apple, sliced into 1/2 inch rectangles
2 carrots, steamed briefly, then julienned (matchsticked!)
a hunk of fresh ginger, sliced into very thin strips

- roll it all up, eat with good quality soy sauce and wasabi, and then go "wow, it's so refreshing and spicy and sweet" oh yes. : D