Okay, first off -- I LOVE going home and I LOVE finally being in a house that practically inhales food faster than I can make it! It's so gratifying, and I can cook up a storm like I could never do for just myself. And there's a big 'ol feast I'm making tonight, so I have to throw up all the other pictures first so I can post about the dinner later. Anyway...


Peanut butter banana ice cream (based on ED&BV's Cashew Banana Ice Cream). This was the last meal I had before I got on the bus. Nice meal, eh? Ooh, I want to let *every* banana in the world go overripe and then freeze them all and make creamy nutty soft serve. ALL the TIME.


And this is the leftovers I brought with me on the bus -- the cauliflower curry and saffron garlic rice (both from the Veganomicon). The rice would be better with the chickpeas romesco I think, but it's still the best rice I've ever made, so I shovelled it all up anyway. Does anyone else feel like they're totally indulging by using white rice instead of brown?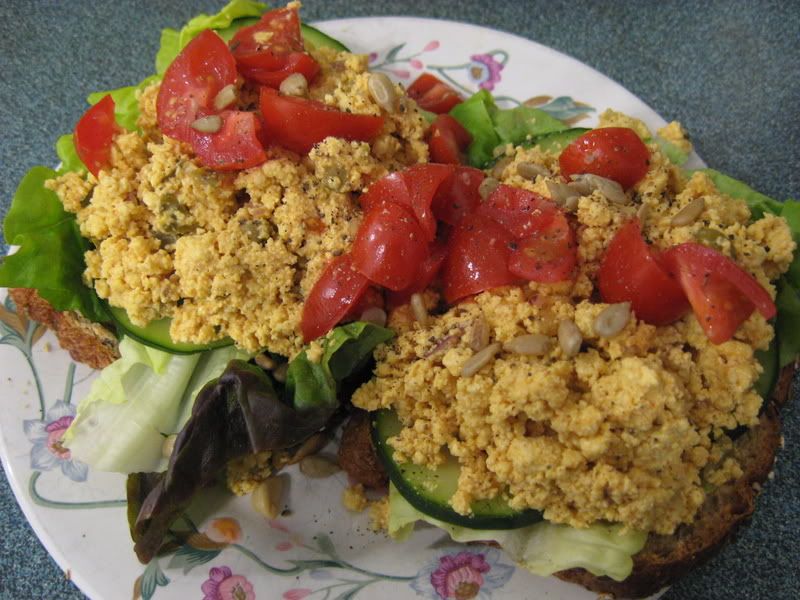 I also brought a big container of tofu salad with me, because I make a really mean tofu salad, and I feel better travelling with a huge amount of no-brainer protein. It basically incorporates half my fridge door -- braggs, lemon juice, nayonnaise, dijon, bbq sauce, garlic, paprika, turmeric, thyme, oregano, pepper, nooch, diced pickles and red onion. Oh, and a niiiiiice loooooooong squirt of sriracha, 'cause I roll like that. It's so good. I had to fight my mom away from this sandwich.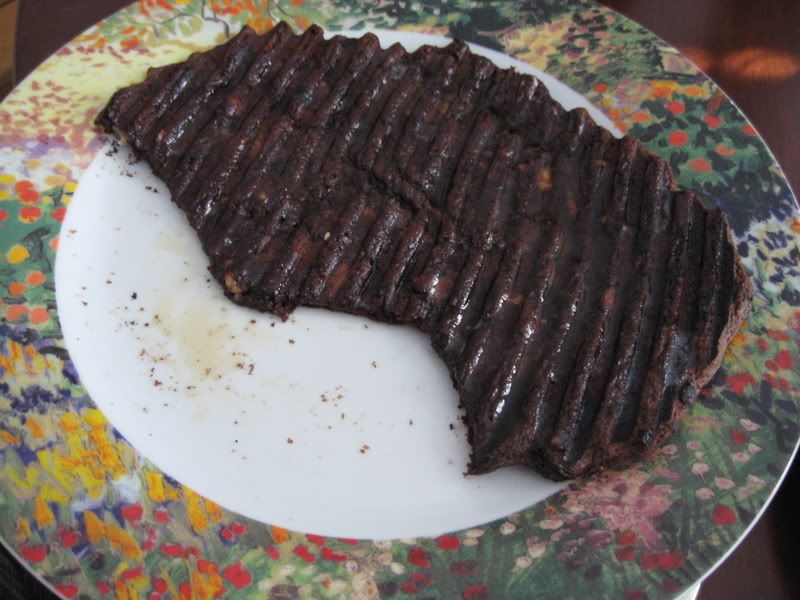 So then my sister says "I'm hungry.... lizbeth, go make me something." and I'm like "YES. This is called the V-con. What does your heart desire?" and she goes "Chocolate Chip Brownie Waffles" and I'm like "You rule so hard I can't fathom your rulingness. Where's the cocoa?". These are basically the best thing to ever come off of a panini press, which we had to use instead of a waffle iron but that hardly matters because you could fry this on the sidewalk and it would still be good. They're all fudgey... but not too fudgey. Pleasantly mid-fudgey. *drool*


I can't believe I'm closing with vegetables. But I'm really proud of myself! I made a squash soup worthy of rivalling those little expensive pseudo-gourmet boxed soups. Nothing out of the ordinary, regular squash soup stuff like apple vinegar, almond milk, nutmeg, pepper, cinnamon, salt. A *tiny* bit of soup powder (but this kind was organic and actually tasted really nice). And a bit of maple syrup, and a bit of coconut milk. I didn't even warm it up, I just blended the roasted squash with everything and put it in the fridge to reheat when I need it, and it's, dare I say it, lovely.

...

So that's the spread, but there's a whole wack of goodies happening tonight, I spent all yesterday blending spices and prep-cooking pastes and making chutne---- oh, I shouldn't say anything else. (I made a cake!)

Okay, I'm done. :)


(oh, and my sister actually DOES rule the universe, and keeps bringing me home treats from her job at the health food store -- Belsoy puddings (chocolate and vanilla), asafoetida, gluten flour, thai ginger kettle chips, organic sesame-spelt bread, organic millet and red quinoa, vitasoy soynog (which is amazing, btw), carob chips, a jar of raw cashews about as big as a cat, lots of produce. Most of it free/about to expire. Quelle yay! I wuv her.)